Soalon's functionality, born from the power of nature and the power of chemistry.
Although it is more moisture-absorbent than synthetic fibers, absorbed sweat and moisture are rapidly diffused through random gaps in the yarn surface, enabling fast drying.It therefore dries quickly after washing, too.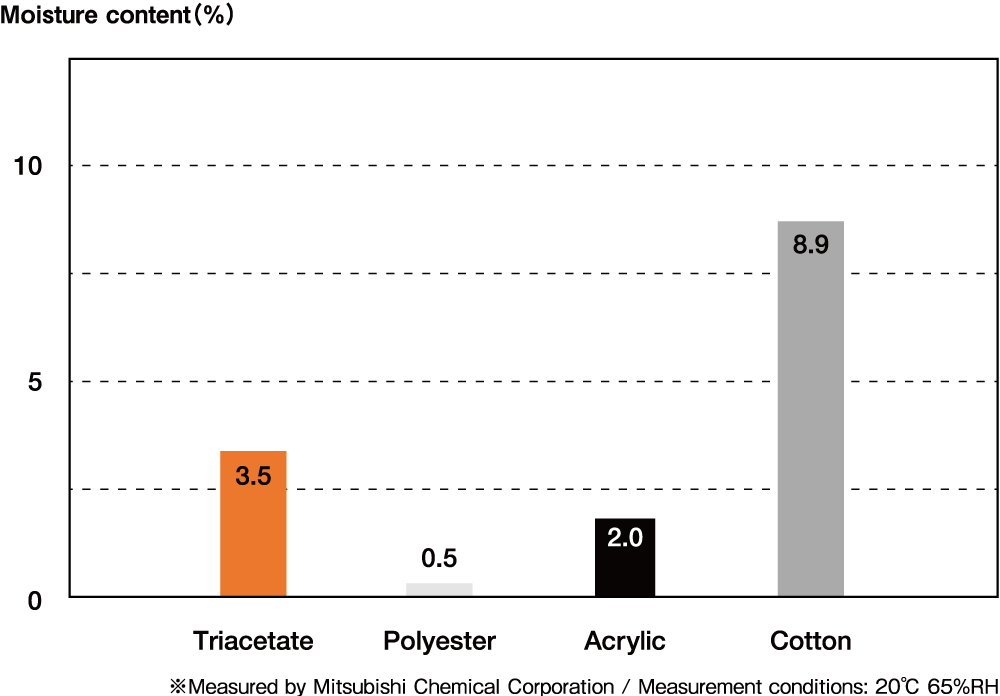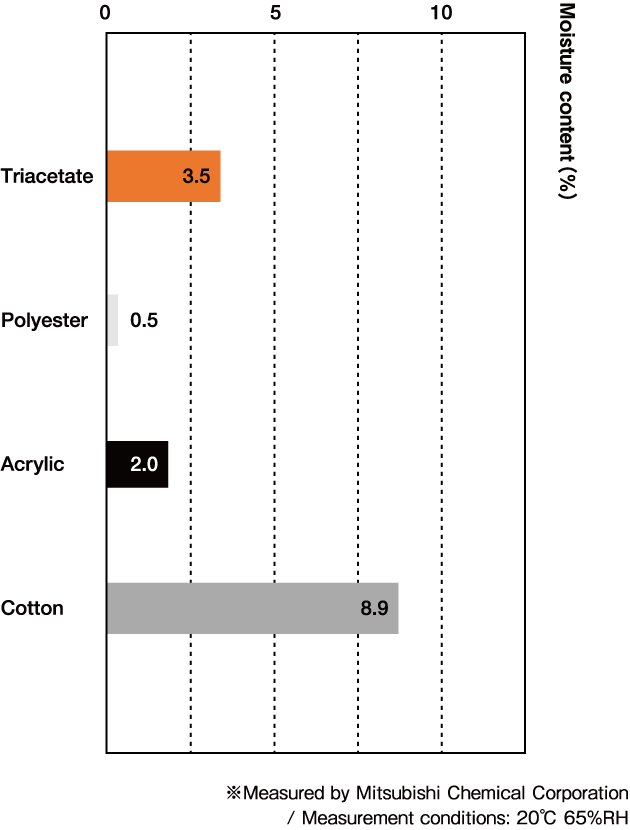 Balanced moisture absorption
It has a lower moisture absorption rate than cotton, which absorbs water well, but a higher moisture absorption rate than polyester, which hardly absorbs any water.This level of moisture absorption provides optimal wearing comfort.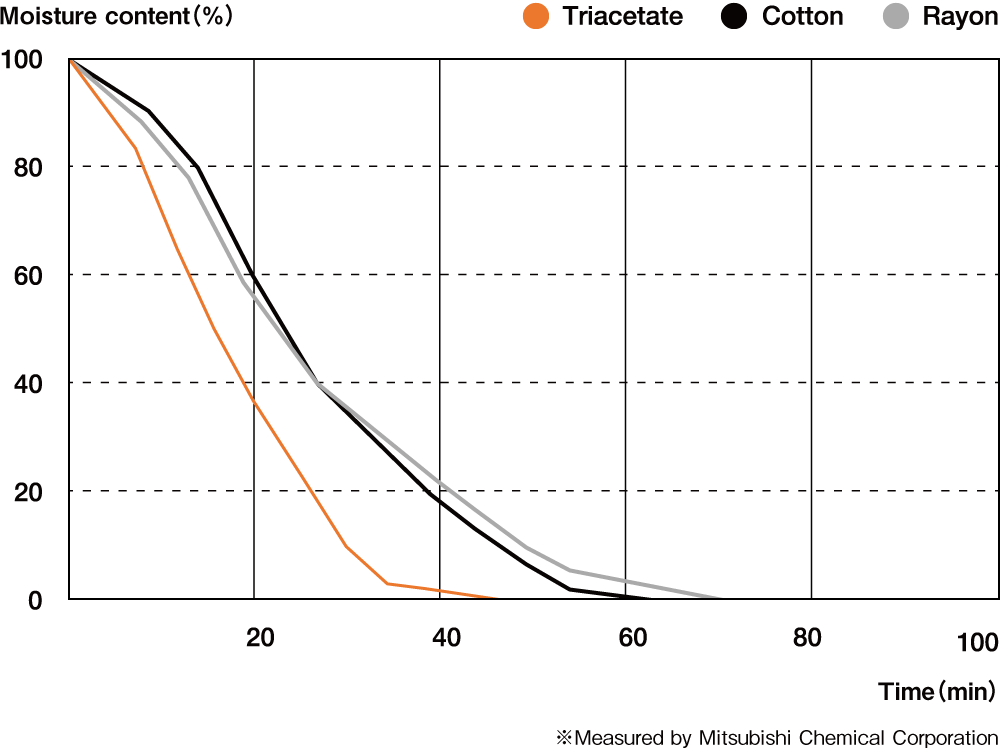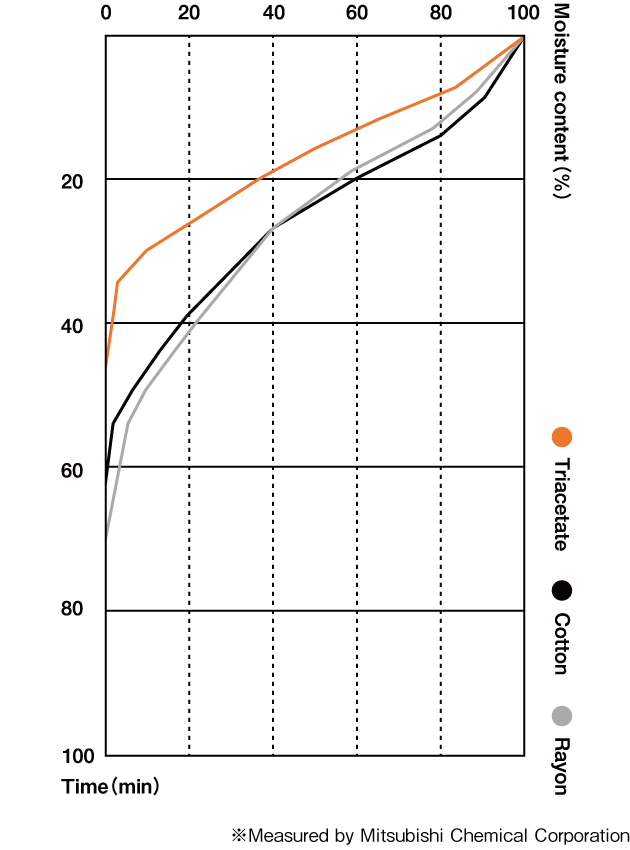 Quick drying property (diffusibility-moisture retention ratio)
Soalon also has excellent moisture diffusibility due to random gaps in the fiber surface.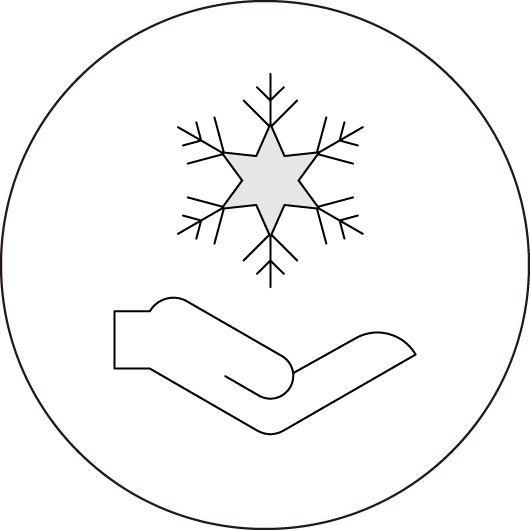 Cooling
Soalon holds a moderate amount of moisture.When it touches your skin and its moisture evaporates, vaporization heat is dissipated which produces a cooling sensation.The fibers themselves are also cooled, so the clothes become cool inside.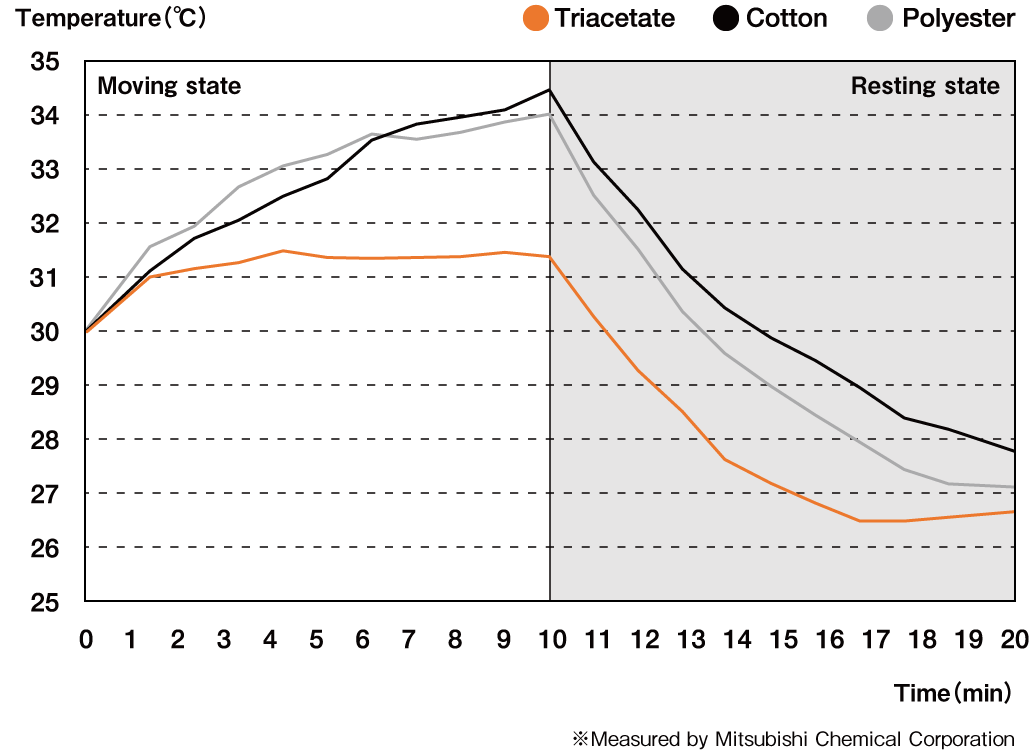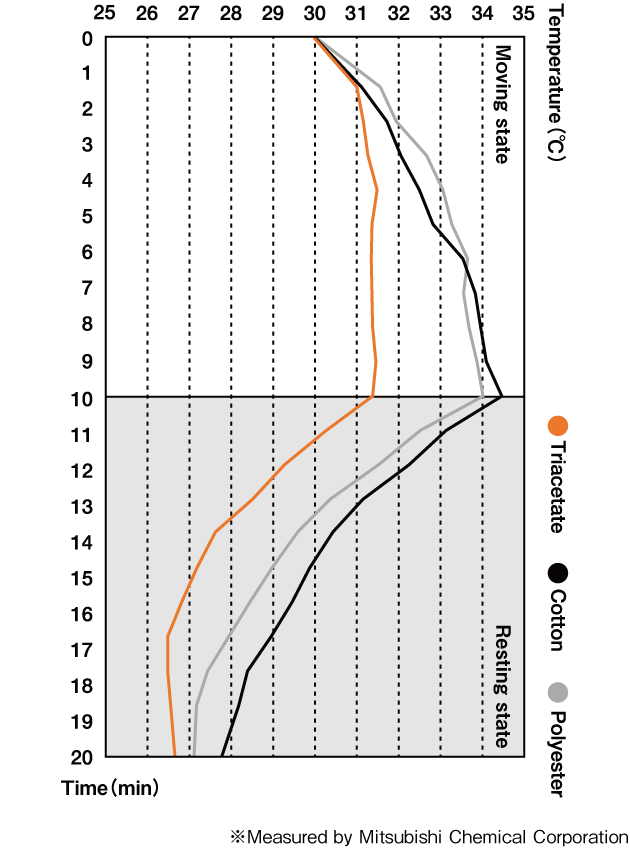 Cooling property
Heat and humidity are rapidly dissipated, removing vaporization heat.This is very different compared with cotton or polyester which tend to trap heat, so clothes always kept comfortable inside even when exercising.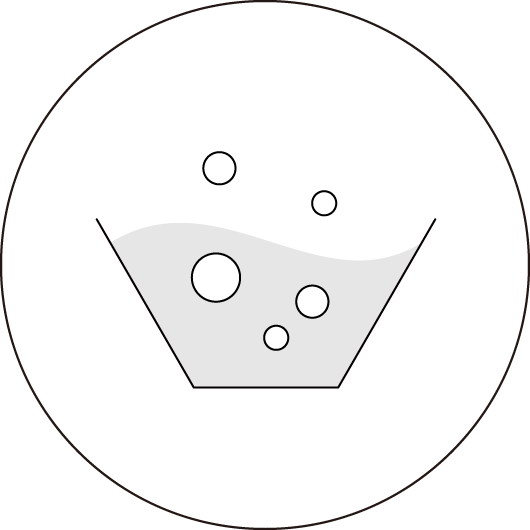 Washable
Soalon fabric does not swell or shrink much when it gets wet, which means it can be washed at home.It does not wrinkle easily when worn or washed, making it very easy to care for.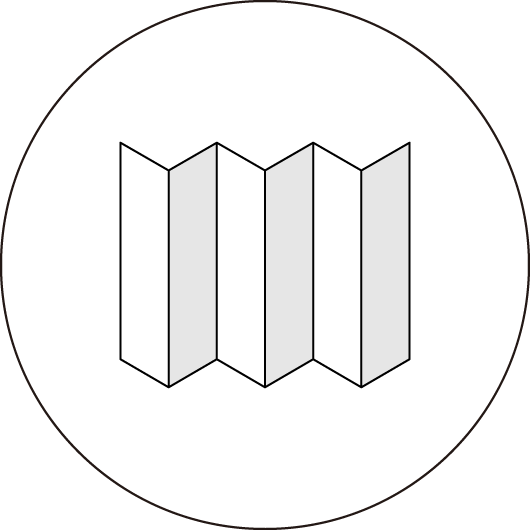 Pleats
The main material of the fibers is natural pulp, yet applying heat creates beautiful pleats which are easy to keep even after repeated washing.It also retains the center crease in men's pants very well.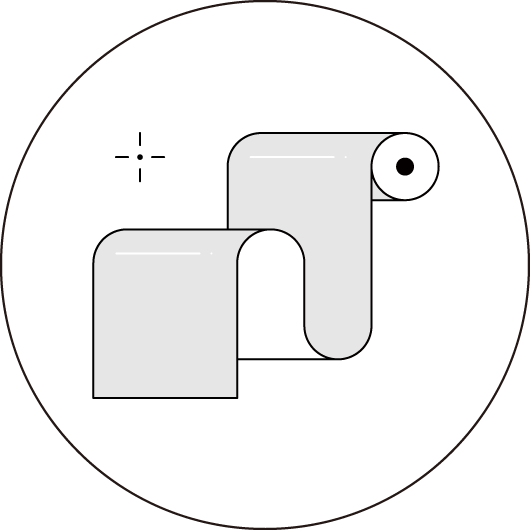 Brightness
The diffuse reflection of light due to random gaps in the yarn surface produces a rich, luxurious gloss feel.Beautiful colors are also achieved by the effect of light shining through and imbuing the transparent yarn.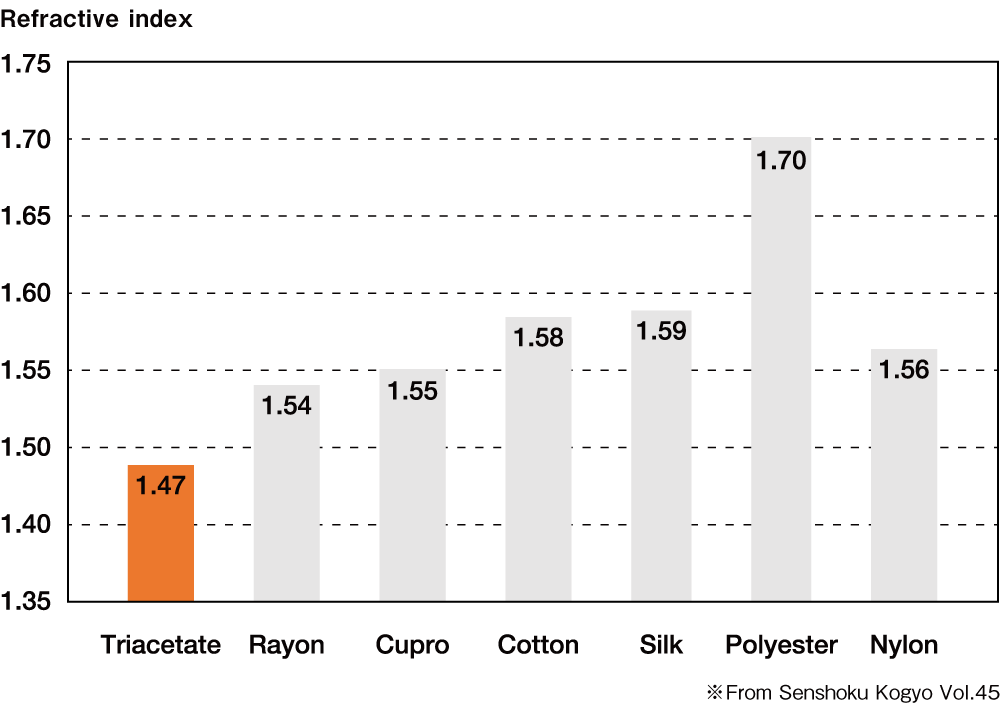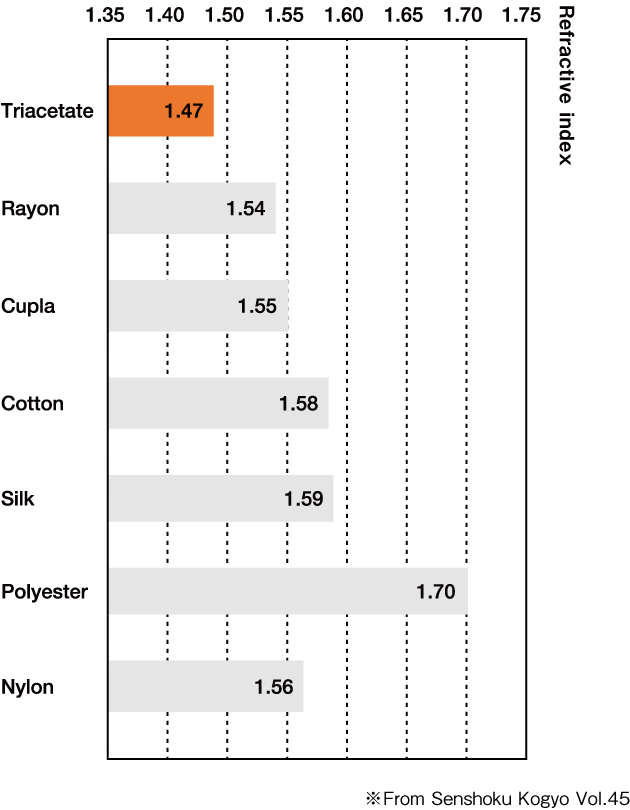 Optical refractive index
Its refractive index is significantly lower than that of fibers typically used in clothing such as silk, polyester, etc.Its small refractive index produces a vibrant chromogenic quality.